Affordable Maternity Staples
Tuesday, January 20, 2015

As the Mr and I prepare for baby Peanut, i get more and more nervous about the budget. There's just so much to buy and no money tree in sight! Here are a few of my affordable must have essentials.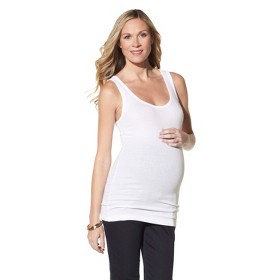 1.
$12 Liz Lange rib tanks at Target
I have 2 in every colour. I live in these and will continue to do so until baby is here. These suckers are so comfortable and are so versatile I can wear them with almost everything. I only wish they came in more colours :(
Don't let the hanger appeal deter you from picking these guys up. Trust me ... they fit and look better on. My regular leggings seem to pinch at the waist, thus, creating a not so flattering bulge. These leggings smooth everything out and are grow with me every week.




3. $7 seamless bras at Wal-mart
The girls have gone up at least 1 cup size and are super super sensitive. These seamless bras are comfortable and provide just the right amount of support.

What are some of your maternity essentials?